Michael Kenna is one of the most international photographers of our time, known worldwide, is represented by the most important art galleries of the planet. His internationality can be found not only in the global appreciation by the public and critics of his work, but also in the subjects chosen, views taken from every corner of the world. In fact, Kenna does not limit himself to representing the English landscapes where he grew up, but he is taken by the irrepressible desire to travel, to visit distant countries, being constantly fascinated by the discovery of new scenarios of which he tries to capture the atmosphere, imprinting it on the film.
Michael Kenna - End of Editions
Michael Kenna realizes only one print run for his photographs
In this section we provide the last available photography of sold out editions.
Michael Kenna is one of the most international photographers of our time. He is known worldwide and is represented by the world's most important art galleries. His internationality can be found not only in the global public and critical appreciation of his work, but also in the subjects he chooses, views taken from every corner of the world. In fact, Kenna does not limit himself to depicting the English landscapes where he grew up, but is gripped by an irrepressible desire to travel, to visit faraway countries, constantly fascinated by the discovery of new scenarios whose atmosphere he tries to capture, imprinting it on film.
Michael Kenna was born in Widnes, Lancashire (England) in 1953. After having long dreamed of devoting himself to painting, he studied photography at the London College of Printing. In 1975, the exhibition The Land, curated by Bill Brandt, at the Victoria and Albert Museum in London revealed to him the extraordinary possibilities of artistic photography; in addition to Brandt, Kenna acknowledged that he had looked with interest at Atget, Emerson, Sudek, Bernhard, Callahan, Sheeler and Stieglitz. At the end of the 1970s, Michael moved to the United States, and went to live in San Francisco – later, he lived first in Portland and then in Seattle, where he currently resides.
In San Francisco, he met Ruth Bernhard (1905-2006), a sensitive photographer of nudes and still lifes, whose assistant he became, helping her with the printing of her images and gaining a great deal of experience in the darkroom, which would over time reveal itself in all of Kenna's work.
Almost from the very beginning, Michael chose the landscape as the elective theme of his photographs, embarking on a tireless reconnaissance of the infinite secret faces of the planet, and reaching all the continents; the results of these journeys and sojourns, determined by commissions or personal choices, are documented in a number of specific monographs and in the catalogues of exhibitions dedicated to him. Among the many exhibitions held in public spaces and private galleries, we would like to mention those in various museums in France, the United States and Japan – most recently at the Bibliothèque Nationale de France in Paris in 2009. Among his cycles we would like to recall L'impossibile oblio, on the Nazi concentration and extermination camps, also exhibited at Palazzo Magnani in 2002, as a section of the exhibition Memoria dei campi.
Micheal Kenna, one of the world's most famous and popular American landscape photographers, explores the potential of analogue photography through the use of black and white silver salts with selenium toning. Appointed a Chevalier of the Order of Arts and Letters by the French Ministry of Culture in 2000, Kenna is known for his unmistakable style, characterised by black and white and the use of analogue photography with which he portrays places using new and unexpected points of view that give them a metaphysical and mental quality. His shots are taken at times of day when the light has yet to fully manifest itself to shape the subjects.
His subjects are nature, architectural treasures, cities and industrial areas, which are cloaked in their own haunting beauty even in the most striking case of nuclear power plants.
Michael Kenna looks at these places from unexpected physical and mental viewpoints and does so by moving at certain times of the day when light has yet to manifest itself to shape those subjects that are only immaterial and practically invisible concepts.
Extremely long exposure times that give back material and languid images, often realised at night, not without difficulties and eventual 'failures' serenely taken into account.
He is a mediator, an extraordinary polyglot translator capable of understanding and identifying with places and cultures so distant that they often seem taken for granted, also due to the thousands of clone images that daily impose themselves on our eyes and dry up our imagination instead of stimulating it.
An artist capable of renouncing speed to tune into channels of peaceful and respectful coexistence with the places he visits and studies.
Far from periods and schedules dictated by those automatisms that lead us to move all at once and convulsively, to make us discover what we have never even had time to notice. Away from the visual and acoustic pollution of the metropolis to rediscover forgotten places and noises. To be sought out and listened to, not suffered.
His language is out of fashion, not 'unfashionable', just because, as some claim, romantically anchored to analogue photography and not yet catapulted into the world of digital. Even though both paths lead to potentially similar, and in any case exciting, results, he chooses the path of reflection and silver over that of impetuous riding on the wave of pixels. Over time, he has forged an unmistakable and unmistakable style, observing the world with the gaze of the sculptor who, in front of the block of marble, already knows where he wants to go but also knows that what he is about to embark on will be a long and difficult journey.
From the half-light of the place where he physically finds himself, Kenna sets off on a journey that never ends after his long clicks but continues later in an equally dark place, the camera obscura, where in the faint presence of a red light bulb the photographer transforms himself into a printer to revise and give new light to what he had already observed. Or perhaps only imagined.
Catalogs available in the Gallery
Michael Kenna - Images of the seventh day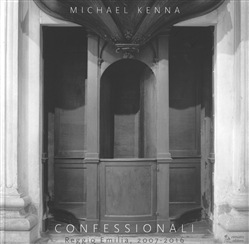 Michael Kenna - Confessionali
60 euro – 7 copies available
Ediz. Italian and English
"Entering the confessional" is an expression that was – and is – typical of the priest in our parishes; we intend to define with this locution also one of the founding features of the ministry. The confessional is an artefact, a piece of furniture, a piece of furniture that is often imposed in Catholic churches and "speaks" even when it is not… inhabited; we know, at a glance, that the priest can live in the confessional even for hours. It may be of noble workmanship, made of more or less valuable woods; it may be imposing or modest."
Michael Kenna - Retrospective
70 euro – 1 copy available
Michael Kenna - Forms of Japan
80 euro – 1 copy available
Michael Kenna - The Po River
75 euro – 3 copies available
The profile of the Po River in 102 photographs taken over a period of 15 years from the source to the mouth
Learn more about his life, follow him on his travels and be guided by his unique way of seeing the World